Our Favorite Offseason Restaurant Specials at the Delaware Beaches
Autumn is not just about pumpkin patches and foliage in Southern Delaware. It's also about tasting the savory treats that the Delaware Beaches have to offer, especially when it comes to unique offseason restaurant specials. Foodies, couples, and budget shoppers, here's your culinary guide to make the most of your fall visit!
PS: This list is updated frequently!
Subscribe to our newsletter to be informed when new specials are added. Don't see a special listed? Contact us on our website or through Social Media to have it added. 
---
Gary's – Dewey Beach Bar & Grill & 3875 Brewing | Learn More >
$9 Famous Turkey Cheesesteaks – Every Thursday
Happy Hour
SUNDAY – FRIDAY 4-6PM
$2.75 Natty Boh's! (Sayy Whattt!?!)
$1 off All Drafts
$4 Domestic Cans/Bottles (Budweiser, Bud Light, Miller Light, Yuengling)
$5 House Wines
$6 Rails
$6 Seltzers (Topo Chico's, White Claw)
$5 Bombs (Excluding CBD Bombs)
---
: $15 1.25 lb whole lobsters all day, sides à la carte
: Locals Night: 25% off total check
: All Day Happy Hour
: $12 crab cake, sides a la carte
Off-Centered Society Members Double Points
: Enjoy a chef curated $45 dinner for two that changes weekly
: 25% off all oysters including roasted, half-dozen, and dozen orders!
: 15% off cases of Dogfish Head beers and cocktails. Mix and match your own 24 pack case.
---
Nalu & Summer House – Rehoboth Beach 
Nalu Rehoboth Beach: https://nalusurfbar.com/rehoboth/
(302) 278-7960
Summer House:
https://summerhouserehoboth.com/
(302) 493-3364
Lefty's Alley and Eats
Overview: Lefty's is a haven for those who want a side of fun with their food. It's an experience-rich venue that goes beyond just serving dishes.
Special Features:
Live Football Games: Perfect for sports enthusiasts.
Game Night & Trivia: Engage your brain while satisfying your appetite.
Monday Bowling: Throw a strike and then dig into a dish.
Adult Line Dancing: Groove and then gorge.
BOGO Pizza: Because two pizzas are better than one!
---
Downtown Blues – Bethany Blues
Overview: A place where food meets rhythm. Bethany Blues offers not just meals, but memories.
Special Features:
Sunday: Celebrate football and food.
Monday Burger Night: Burgers done right.
Tuesday Tacos and Tequila: Spice up your week.
Wing Wednesday: Half-priced wings to relish.
Thursday: Meat, potatoes, and half-priced wine.
Fridays: A culinary journey with 3-course meals.
Saturday: Game day happiness from 11am-6pm.
---
Fins Ale House
Tuesdays are lobster night with $24 lovsters and half priced lobster entrees and appetizers, but there are too many other events and specials to mention here. Here's the link, for the adventurous lol
https://www.finsrawbar.com/events
---
Papa Grandes
Overview: If you're craving Mexican cuisine with a modern twist, Papa Grandes is your go-to spot in Fenwick Island.
Special Features:
Sunday: All-day happiness with Happy Hour.
Monday: Dive into $5 Margaritas.
Taco Tuesday: A tradition we all cherish.
Wednesday: Half-priced appetizers for a midweek treat.
Burrito Thursdays: Because burritos deserve their own day!
---
The Pines American Bistro
-Monday is Filet & Wine Night. Filet, Mashed Potatoes, Green Beans & a Glass of Cab for $29.
-Wednesday is Bistro & Burger Night. Chef Kyle features a menu of small plates & bistro style items, and three burger options, including our Pines Burger at a price of $14.
-Thursday is Comfort Food Night. Get a Comfort Food Entree, House Salad & Parker Roll for $24.
---
The Purple Parrot Grill Rehoboth Beach
Overview: Vibrant and lively, The Purple Parrot Grill brings an eclectic mix of food and fun.
Special Features: Each day brings a new culinary theme, from Mojitos on Mondays to the Schnitzel on Saturdays. Plus, don't miss their Quesadilla Day or their Crab Cake Day specials!
---
BlueMoon Rehoboth
Overview: An iconic Rehoboth establishment, BlueMoon isn't just about food—it's about an experience.
Special Features:
Mondays: The 2 dine for $39 deal can't be beaten.
Tuesdays: Enjoy Drag Bingo with a 3-course meal.
Saturdays: The Legends Drag Show promises a glamorous evening.
Sundays: Luxuriate with Filet Mignon and fine wines.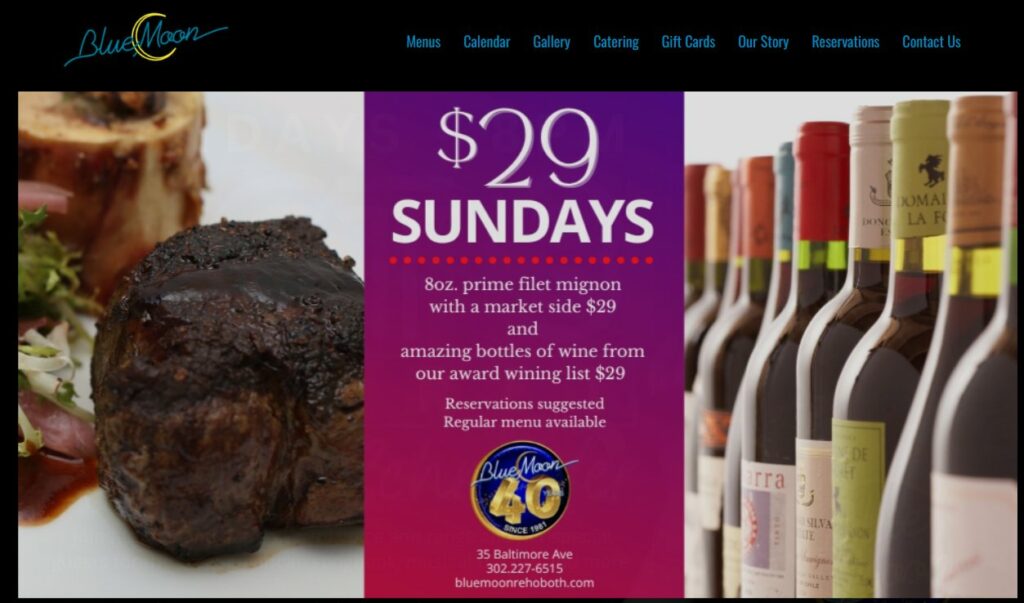 ---
Drift Seafood & Raw Bar
-Tuesday is Pasta Night. Three handmade varieties under $20.
-Thursday is Bourbon & ½ Price Oyster Night
---
Bodhi Kitchen  (Starting first week in December)
-Sundays. Dim Sum Brunch for $23, 11am-2pm
-Sunday Night. Takeout Night. Spend $50, Get a $10 Voucher for Future Use.
-Monday Night: Pad Thai Night. $15 Pad Thai
---
The Delaware Beaches, with their rich culinary landscape, ensure that every diner finds something to their liking. From cozy settings to more eclectic atmospheres, the offseason brings with it a burst of flavors and offers. Dive into these enticing fall menus and make the most of the offseason attractions at the Delaware Beaches!
Disclaimer:
The information provided in this article regarding offseason restaurant specials at the Delaware Beaches is based on our latest research and knowledge as of the date of publication. While we strive to provide accurate and up-to-date information, restaurants may change, discontinue, or update their specials without notice. We advise our readers to check directly with the individual establishments to confirm current offerings and availability. DelawareBeaches.Online holds no responsibility or liability for any discrepancies or changes to the specials, nor for any experiences or incidents that might occur at the mentioned establishments. Always dine responsibly and enjoy your culinary journey!