Rehoboth Beach Boardwalk
Rehoboth Beach Boardwalk Classics / Favorites
Funland
Penny Lane –   https://www.visitdebeaches.com/penny-lane-mall/
The many Toy Stores – Rehoboth Toy and Kite Company is a local favorite
Rent a bike
Best restaurants on the Rehoboth Beach Boardwalk
Zoggs – right off the boardwalk, great island like ambiance – Seafood Restaurants on the Rehoboth Beach Boardwalk
Gus and Gus – a local favorite, if you don't know about Gus & Gus, you need to see what it's all about! Not the healthiest options, but it's fast food at its finest!
Thrashers French Fries – the original boardwalk fry, known for it's location in Rehoboth and Ocean City Maryland. Peanut oil and vinegar is the secret to their recipe.
Victoria's  – More fine dining than the other options. Certainly good, with a great view, and nice ambiance
 Obie's By The Sea – possibly the greatest view on the boardwalk since it sits a flight of stairs up off the beach
Best Ice Cream on the Boards
Of course, the only Gelato on the boardwalk – and all Rehoboth, but it's fantastic nevertheless! Made from fresh fruit and juice, as well as ingredients imported directly from Italy. Highly recommend! They also have snacks, beverages, and light fare available.
A local icon. From their website "We are a family-owned business that has been in operation for more than 30 years. Come by and see our ice cream shop on the Rehoboth Beach boardwalk featuring over 100 ice cream flavors!"
They also have shakes, sundaes and funnel cake
Known for having the most flavors on the boardwalk, all homemade, all delicious, and some extremely niche! Including a habanero ice cream. Samples available!
Well known on the boards, with several locations, but only serve Frozen Custard – it's creamier and softer than hand dipped. I can't say I prefer it over hand dipped, but it's certainly worth a shot!
Best Seafood downtown Rehoboth
A restaurant that serves seafood dishes. It also has a raw bar that you can purchase specialty beers from.
Fresh fish and oysters are this place's specialties. Oh, and beer (who doesn't love that combination?). Perfect for those group get-togethers.
Want your seafood grilled specifically? Give this place a try. Not just fish, either (though they have that, too). Large platters of seafood specialties with an ambiance to match; eat to your heart's content at Big Fish Grill.
A local favorite, but visitors can have just as much fun eating here. It's also a good place to taste some local, seasonal dishes. And of course, specialty cocktails and even a menu for the kiddies.
Stylish hotel restaurant serving innovative American comfort food, plus cocktails, wine & beer.
Games & Rides on the Boardwalk
Everyone knows of Funland and Zelky's, they are a part of the local landscape and a local favorite on the Rehoboth Beach Boardwalk.
Funland has a  multitude of classic rides, that are oftentimes $1 or less per kid, per ride. They do a wonderful job of making the experience memorable as well as affordable. For the bigger kids, there's the Graviton, the Haunted Mansion, and many exhilarating rides and prizes to be had!
Zelky's is home to the 10 skiball rounds for $1 – you honestly cannot beat that value anywhere! Earn tickets, win prizes, have a ball!
Lastly, don't forget to pay Zoltar a visit and get your fortune told for a buck!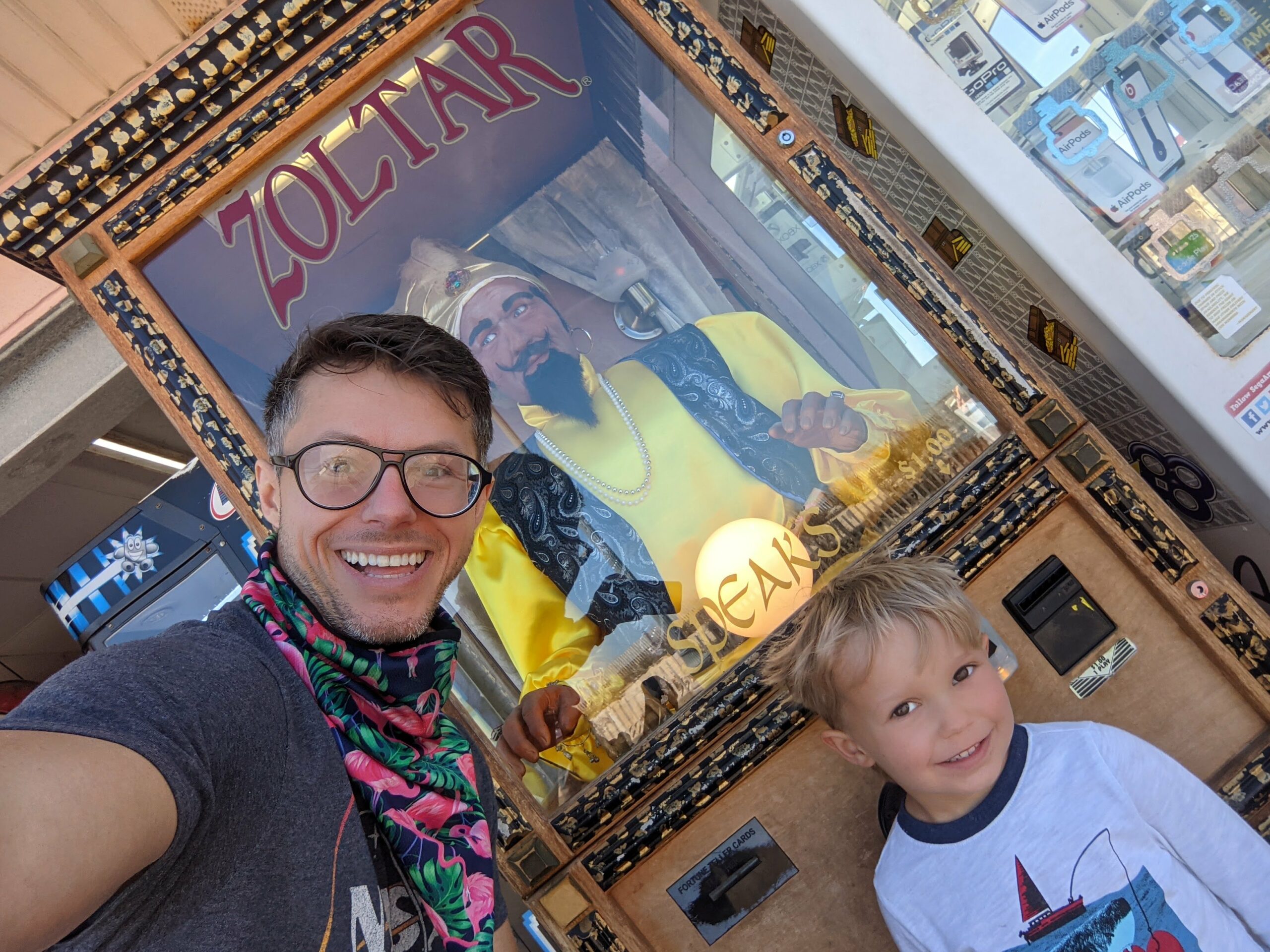 Funland, Zelky's,
History of the Rehoboth Beach Boardwalk
https://www.cityofrehoboth.com/about-rehoboth-beach#:~:text=The%20boardwalk%2C%20now%20a%20mile,hotel%20of%20the%20same%20name.